October 08, 2022
Trame Barocche: conferenza #2 "Rasi, lampassi e damaschi fra Sei e Settecento" G.L. Bovenzi
Nell'ambito del progetto di divulgazione Diocesano Formae Lucis, e contestualmente alla mostra "ONDE BAROCCHE. CAPOLAVORI DIOCESANI TRA 1600 E 1750" la Fondazione arte della Seta LISIO e Formae Lucis presentano: "TRAME BAROCCHE, tra tessuto e iconografia per svelarne i significati", un ciclo di incontri di approfondimento su temi legati al periodo barocco e tardo barocco.

Gli eventi (fruibili on line oppure in presenza) si terranno nei cinque Sabati di Ottobre : sabato 1 ; 8 ; 15 ; 22 ; 29
tutti gli incontri saranno alle ore 21 presso Palazzo Oddo, Via Roma 58, 17031 Albenga (SV).
----
#2 Seconda conferenza del ciclo "Trame barocche. Tra tessuto e iconografia per svelarne i significati". L'esperto Gian Luca Bovenzi interviene per il settore "Tessuto" con "Rasi, lampassi e damaschi fra Sei e Settecento".
Per la partecipazione in presenza: posti limitati ad esaurimento. Biglietti in presenza acquistabili presso: Biglietteria Museo Diocesano Albenga, IAT Albenga, direttamente presso palazzo Oddo la sera dell'evento.
Info: www.formaelucis.com
contatti: formaelucis@diocesidialbengaimperia.it
COSTI
Singola conferenza: Euro 30
Intero ciclo: Euro 120
--
Riduzioni/ Tariffa agevolata per: under 18, over 70, insegnanti
Singola conferenza: Euro 18
Intero ciclo: Euro 80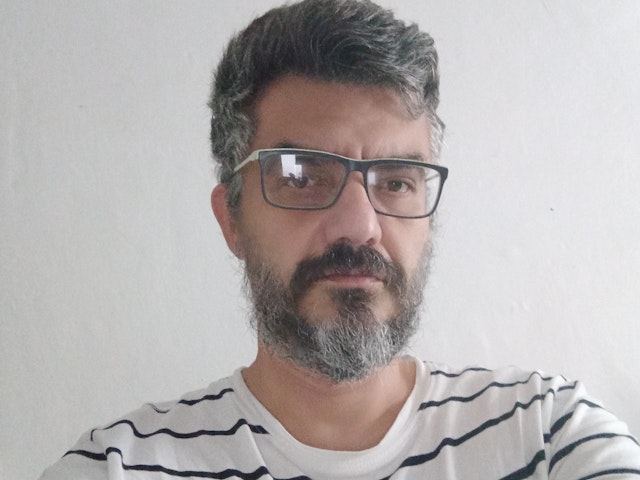 Rasi, lampassi e damaschi fra Sei e Settecento | TESSUTO
a cura di Gian Luca Bovenzi
8 Ottobre 2022 ore 21
Fra Seicento e Settecento la produzione tessile è caratterizzata da una notevole inventiva sia decorativa che tecnica, in cui si passa dagli stilizzati motivi vegetali a piccoli tronchetti ad opulente composizioni in cui molteplici trame creano decori e motivi tridimensionali e naturalistici.
Attraverso l'analisi di alcuni fra le più significative attestazioni tessili conservate nella Diocesi di Albenga-Imperia, si compirà un inedito viaggio fra le sete più preziose che rispecchiano e riflettono il gusto, la cultura e l'orientamento estetico di chi le ha tessute ed esibite.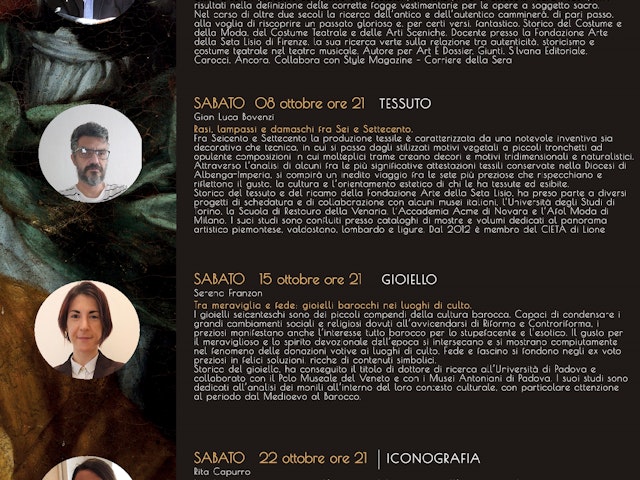 cinque conferenze nei diversi settori, a prezzo ridotto
Acquista intero ciclo
E' possibile acquistare a prezzo agevolato l'intero ciclo di cinque conferenze:
Sabato 1 ottobre Costume - Alessio Francesco Palmieri Marinoni
Sabato 8 ottobre Tessuto - Gian Luca Bovenzi
Sabato 15 ottobre Gioiello - Serena Franzon
Sabato 22 ottobre Iconografia - Rita Capurro
Sabato 29 ottobre RIcamo - Magda Tassinari
How to enroll for Trame Barocche: conferenza #2 "Rasi, lampassi e damaschi fra Sei e Settecento" G.L. Bovenzi
There are still places available
1. Send the application form
To pay the fee use the same email address you used to send the form.
Please, check out the participation fee section if you have the right to a discount.