Guided Visits
Fondazione Lisio is open for visits by reservation only. Each tour group is accompanied by an expert guide; the visit lasts about one hour. More than one group may visit the premises at the same time.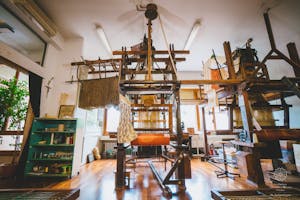 Fondazione Lisio is accessible to adults and disabled persons and to children only if accompanied.
We offer parking for private vehicles and small buses.
The tours are conducted by expert guides who are all well-versed in Fondazione Lisio's activities and history.
n.b. discounts are available for school groups
The tour route takes visitors past the Jacquard looms, hand-operated by our master weavers as they create velvets and brocades, and then goes on to the school and the salesroom, the fulcrum of all the precious quality of Fondazione Lisio's hand-weaving.
Tour prices:
Group up to 4 persons € 100,00
Group from 5 to 9 persons € 160,00
Group from 10 to 14 persons € 200,00
Group from 15 to 20 persons € 230,00
Contact person Cecilia Cerchiarini
call +39 055-6801340(1)
or Write us