October 23, 2021
APRITIMODA: alla scoperta del saper fare italiano
Sabato 23 e domenica 24 ottobre un viaggio negli atelier di brand famosi e laboratori dell'eccellenza artigianale. Oltre 80 appuntamenti dedicati all'Italia del bello e ben fatto. Da oggi al via le prenotazioni su www.apritimoda.it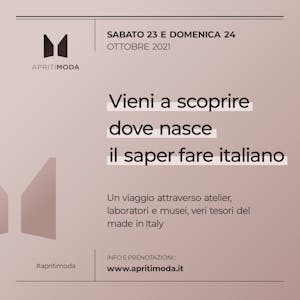 Since 2017, ApritiModa – for just one weekend a year – allows the public to discover the fashion world's most hidden places. Right where the creativity, the design, the unique Italian savoir-faire and the highest expression of Made in Italy are hidden.
On Saturday 23th and Sunday 24th October 2021, ApritiModa will open one hundred doors, from the north to the south of the country. A trip through Italy aimed at discovering, experiencing and falling in love with the great names that represent us in the world and with the artisanal realities that, just here, exist and resist.
ApritiModa's first edition was in Milan, in October 2017.
Then, in 2018, it was in Florence, the city of the first haute couture show.
In 2019 it was held again in Milan, where twenty thousand people lined up to live this unforgettable experience. And this year, a journey through Italy and its hidden gems.
ApritiModa will tell one hundred stories, one by one. Stories of places, of people, of businesses. The project was born from an idea of Cinzia Sasso and was realised together with Eleonora Grigoletto, Lidia Pezzoni, Emma Pradella, Andrea Chisu, Mariavittoria Zaglio, Marta Marcolin, Marialuisa Apreda.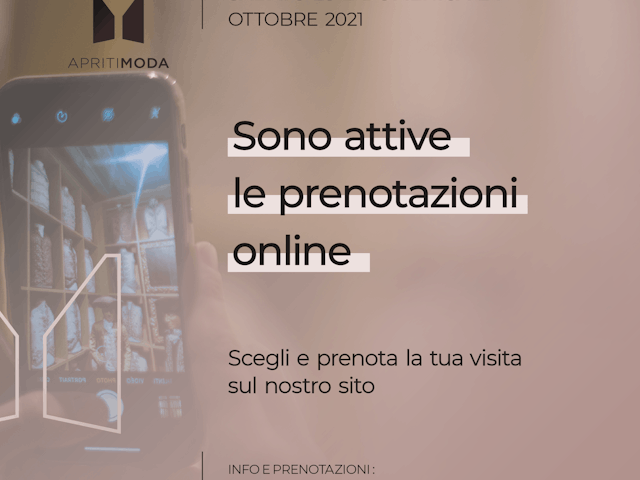 vieni a conoscere l'Italia più bella che c'è
23th and Sunday 24th October 2021 | The pleasure of discovery
Opening the doors to these exceptional places means not only allowing visitors to experience first-hand their extraordinary beauty and uniqueness, but also putting in touch those who create fashion with those who live the cities. It means revealing the extraordinary wealth of skills, quality and knowledge. It means putting together, piece by piece, the mosaic of the most beautiful country in the world.
Due to the current circumstances, the free visits will need to take place with a limited number of people and by reservation only, to ensure compliance with health and safety measures.
The Lisio Foundation is part of this event, check it out to participate and visit us!