Historical archive
The Fondazione Lisio keeps textile culture alive through studies, research and ongoing collaborative efforts. We continue to catalogue and valorise the documents and the handmade products that have uniquely characterised the Lisio manufactory's 115-year history.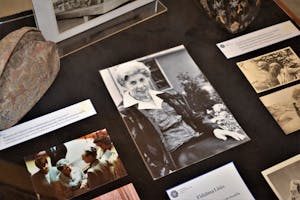 Lisio's more than 100 years of experience represent an important chapter in the history of applied arts in Italy, the history of taste and fashions in fine furnishings and apparel, and the history of the textile arts at the international level.
Our Inspirations
The Arts Meet Textiles
The collections held by the foundation include a photographic archive of innumerable reproductions of works of art. Paintings and frescoes, works in ceramics and wood, bas-reliefs and mosaics, marble intarsias and miniatures: amazingly modern in his outlook, Giuseppe Lisio approached all these various forms of art and assessed them all as equally compelling expressions of Italian creativity and artistic genius to be handed down, proposed anew and recreated in his fabrics.
Lisio's principal source of inspiration was, however, the ancient textiles, some of which he studied in the collections of the time and some purchased by him on the antiques market for his own collection, which alone counts about 400 pieces. He investigated, reproduced and reworked ancient decorative matrices and textile techniques in variants more consonant with contemporary needs and tastes, while constantly striving to produce quality products with the Italian flair that has always distinguished Lisio's creations worldwide.
The Archive is made up of the:
Historic Document Fonds
Photographic Archive
Paper Graphs Archive
The collections, instead, include the:
Lisio Fabrics Collection, which documents the history of the manufactory, an ultra-centenary presence in Italian economic and cultural history.
Antique Fabrics Collection, composed of more than 400 samples of fabrics from Italian and foreign manufactories, all dated between the 15th and 19th century.
Fondazione Arte della Seta Lisio is also home to a specialised library, soon to be made consultable upon request, containing texts on textile technical culture, historic studies of ancient fabrics, embroideries, laces, costume and fashion, tapestries and rugs.
A section is devoted to books on art, interior decorating, and contemporary textile art.
Below is a partial listing of the items in the periodicals section:
The Bulletin and the Gazette du Cieta – Centre International d'Etude des Textiles Anciens of Lyon
Notizie Nostre – Associazione Professionale Ex Allievi Istituto Tullio Buzzi of Prato
Notiziario Tecnico Tessile – Associazione Ex-Allievi del Setificio Paolo Carcano of Como
La Seta – Bulletin of the Centro di Ricerca Tessile Stazione Sperimentale della Seta of Milan
Tinctoria – Associazione Tessile Italiana
Filo Forme
Datatèxtil - Centre de Documentació i Museu Tèxtil of Terrassa
Textile History – The Journal of the Pasold Research Fund
The Bulletin - The Textile Museum of Washington D.C.
Fiber Arts
ETN Textile Forum
MCM. La Storia delle Cose. La Rivista delle Arti Minori.
The rare book section contains various historic texts on the history of textile technique, including:
Traité Encyclopédique et Méthodique de la Fabrication des Tissus by P. Falcot. Elbeuf-Mulhouse, 1852.
Dictionnaire Général des Tissus anciens set modernes by M. Bezon. Lyon, 1859.
Théorie du Tissage des Étoffes de Soie by J. Loir. Lyon-Paris, 1926.
Consultation of archive materials and historical textiles is available by appointment. To access is required identity document, contact details, purposes and contents of the consultation.
Referent
Paola Marabelli
For information
tel: 055-6801340
or write us