August 07, 2020
Excellence in Education
Con orgoglio e tanta dedizione portiamo avanti la nostra attività di formazione delle giovani generazioni nel settore del tessile. Come realtà formativa siamo orgogliosi di esser presenti su www.scuolemestieridarte.it della Fondazione Cologni: un portale per raccontare, rappresentare e celebrare gli istituti italiani dove studiano e si applicano gli artigiani di domani.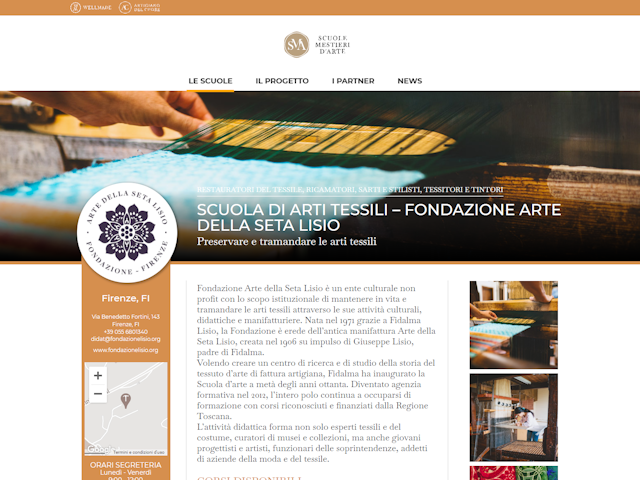 Scuolemestieridarte.it: il portale dedicato alle scuole di artigianato artistico
Formare e sostenere una nuova generazione di maestri d'arte: con questo obiettivo la Fondazione Cologni presenta un portale di orientamento per scoprire le migliori scuole italiane dei mestieri d'arte, scuolemestieridarte.it. Il sito, nato nel 2014, è stato riprogettato nella grafica e nelle funzionalità ed è ora consultabile con una prima selezione di oltre 60 scuole d'eccellenza.
L'offerta formativa è ricca e destinata a crescere: Scuole di Alta Formazione, Accademie, Centri di Formazione Professionale e Istituti Tecnici Superiori; ogni istituto ha una pagina dedicata con i contatti e l'elenco dei corsi, mentre la navigazione per filtri consente di cercare le scuole d'interesse per tipologia, mestiere e regione.
Scuole Mestieri d'Arte
nasce per raccontare, rappresentare e celebrare gli istituti italiani dove studiano e si applicano i maestri di domani. Luoghi dove i giovani apprendono la regola del talento e il metodo, ma dove si coltivano anche il gusto e la passione, apprendendoli da quei maestri che sanno far fiorire il gesto e far germogliare le idee.
Il sito presenta una selezione di Scuole che rappresentano un esempio importante di come la didattica si sia resa espressione di un'eccellenza ben radicata, e l'abbia saputa far evolvere nel tempo: una scelta che rappresenta in maniera emblematica la specificità che il nostro Paese sa ancora esprimere, e che comprende dunque Istituti pubblici di rilevanza nazionale, Scuole di formazione legate alla tradizione e al territorio, realtà di altissimo livello destinate a chi ha già un diploma, Scuole volute da lungimiranti aziende private per tutelare e preservare un patrimonio produttivo e di cultura unico, non esportabile.
Queste Scuole trasmettono una lezione che vale per tutti: la regola che il talento non è nulla senza l'impegno, senza la dedizione, senza le ore spese a perfezionare un gesto che diventa giorno dopo giorno un tocco. Un tocco da maestro: un contatto da cui nasceranno bellezza ed emozione.
Valori aggiunti di un prodotto italiano che il mondo desidera, e che nelle nostre Scuole prende forma, vita e identità.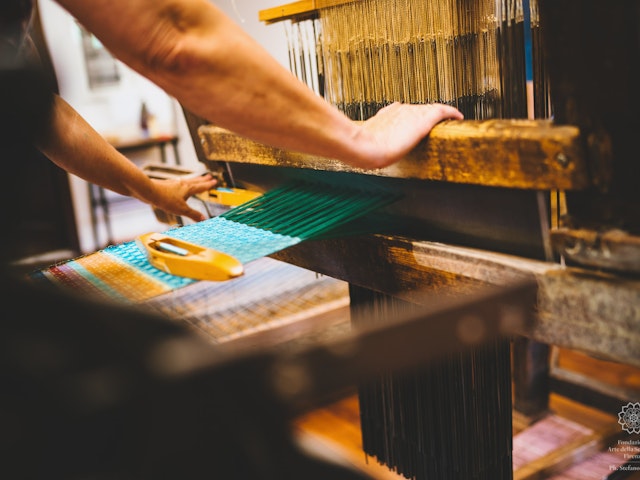 Textile Arts School
Education
The teaching activities, instituted in the 1980s, are intended to train textile and costume experts, designers, weavers, public and private entities, museum and collection curators, superintendency personnel and young designers and artists, uniting avant-garde technologies and historic textile culture and production techniques. Having earned Training Agency accreditation in 2012, we continue to provide training, including courses accredited and funded by the Region of Tuscany.