November 30, 2020
Seminar | Ave Cesare! Vestire Roma tra Teatro e Cinema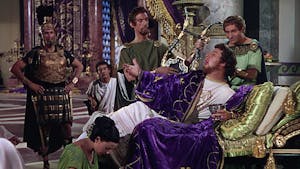 Ave Cesare! Vestire Roma tra Teatro e Cinema
In copertina: Peter Ustinov nel ruolo di Nerone in una scena del film Quo Vadis, 1951
Chair: Alessio Francesco Palmieri Marinoni.
A partire dagli Anni Dieci del secolo scorso, nel mondo del cinema nasce il genere storico, che godrà di grande fortuna per più di mezzo secolo, la cui caratteristica peculiare sarà l'estrema attenzione data ai costumi.
Film come Quo Vadis? (1913), Gli ultimi giorni di Pompei (1913) e Cabiria (1914) diedero il via a quel genere noto in Italia come "Peplum" – o "Sword and Sandal" in ambito inglese – che raggiungerà l'apogeo negli Anni Sessanta con Ben-Hur, Cleopatra, Spartacus, Tito e I Dieci comandamenti. In questi film, storia e mitologia, mutuate dall'ambito greco-romano, vengono a mischiarsi con elementi afferenti alle culture geograficamente circostanti (ad es. egizi, assiri, etruschi, micenei, etc.).
La peculiarità di questo genere cinematografico è data dallo stretto connubio con la Storia del Costume, le cui pellicole saranno fortemente caratterizzate da un'attenzione precisa all'epoca storica in cui è ambientata la vicenda e all'abbigliamento relativo riuscendo comunque a strizzare l'occhio al mondo del fashion del Novecento.
STRUTTURA DEL SEMINARIO:
Il mito di Roma nel Romanticismo
Iperverismo scenico: Nerone di A. Boito e Quo Vadis?
Tra storia e moda
Nerone: un caso studio nel cinema
LETTURE CONSIGLIATE:
Di Chiara, F. (2016) Peplum: il cinema italiano alle prese col mondo antico, Donzelli Editore
Kinnard, R. (2017) Italian Sword and Sandal Films, 1908-1990, McFarland
Monday 30 November 2020
3pm - 5pm (2 hours)
******************************
in LIVESTREAMING via ZOOM
Chair: Alessio Francesco Palmieri Marinoni
INTENDED FOR
Students and history of costume experts, history of fashion, historical tailoring, tour guides, art critics, cultural and textile heritage operators, enthusiasts.
AT THE END OF THE COURSE
Certificate of participation
ENROLLMENT
To register, please send the enrollment form to the email address info@fondazionelisio.org ; then pay the fee by credit cars through the form at the end of the page
or pay by offline payments
LIVESTREAMING
The seminar will be available by online video platform Zoom. You need to have a device with internet working connection. The webinar is provided in Italian languange.
FEE
How to enroll for Seminar | Ave Cesare! Vestire Roma tra Teatro e Cinema
Subscriptions are momentarily closed.