November 25, 2020
Conferenza | La moda del Trecento a Siena e in Toscana
Doppio appuntamento con l'esperta Roberta Orsi Landini dedicato al tema della moda nel Trecento in Toscana. Dagli affreschi diAmbrogio Lorenzetti a Siena alla nascita della "moda giovane" e ai presupposti che porteranno alla netta diversificazione fra l'abbigliamento maschile e quello femminile.

In copertina: Ambrogio Lorenzetti - La Vanagloria (Allegoria del Cattivo Governo), dettaglio - affresco - 1338-1339 - Siena - Palazzo Pubblico, Sala dei Nove o Sala della Pace
Chair: Roberta Orsi Landini
Gli anni in cui Ambrogio Lorenzetti affresca la Sala della Pace nel Palazzo Pubblico di Siena sono anni importanti per il cambiamento della moda: i personaggi rappresentati però non sentono ancora il vento del cambiamento, che invece determinerà nel decennio successivo una nuova immagine maschile e una nuova sensibilità erotica.
Nasce la moda giovane, che si distingue nettamente da quella degli anziani e dai rappresentanti delle istituzioni, e si afferma una netta diversificazione fra l'abbigliamento maschile e quello femminile.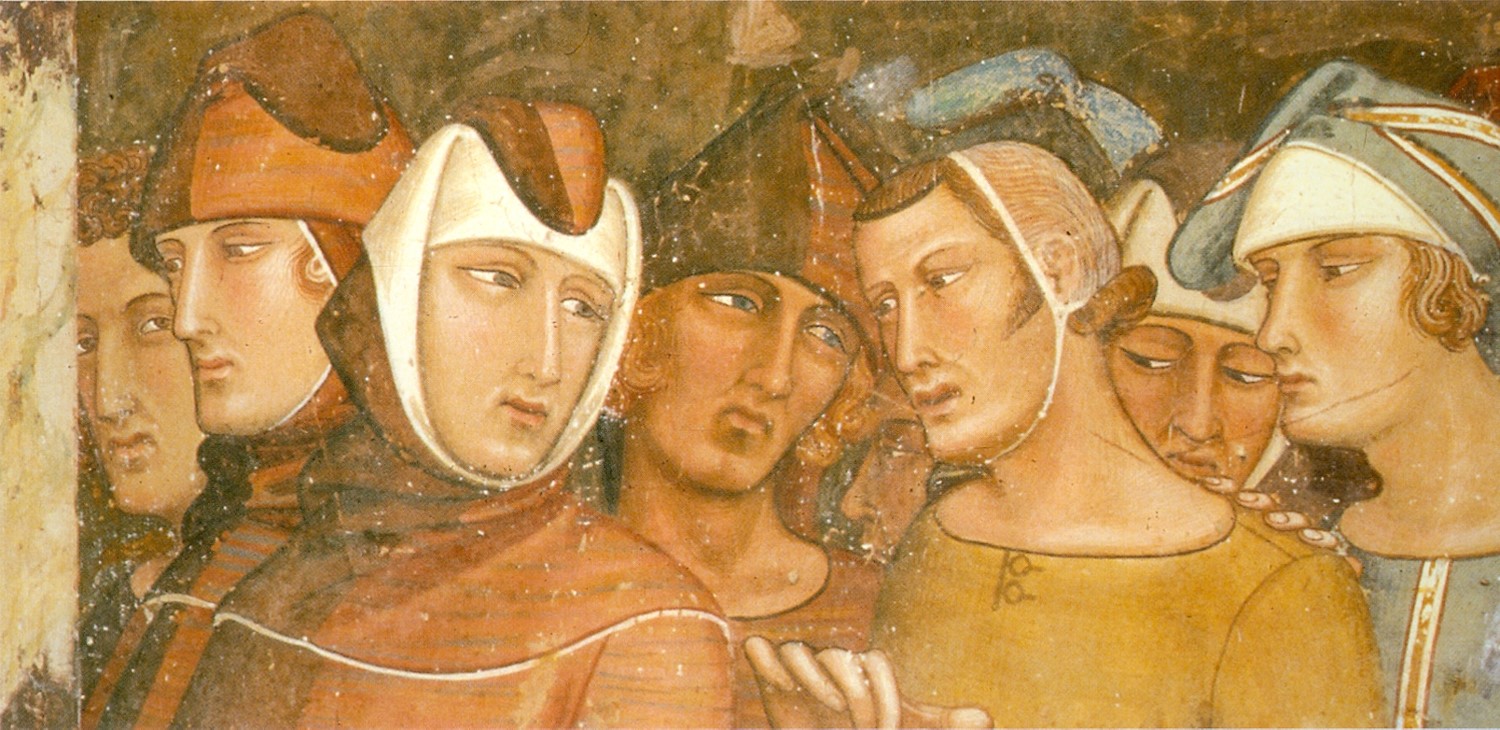 Mercoledì 18 novembre orario 14.30-16.00 (1h 30 min)
Mercoledì 25 novembre orario 14.30-16.00 (1h 30 min)
**********************************
ONLINE in diretta streaming via ZOOM
Chair: Roberta Orsi Landini
DESTINATARI
Studenti e studiosi di storia del costume, storia della moda, storia del cinema, storia del teatro, sartoria storica, guide turistiche, critici d'arte, funzionari e impiegati delle soprintendenze, operatori del patrimonio culturale e tessile, appassionati.
COSA VIENE RILASCIATO
Attestato di partecipazione
ISCRIZIONE E MODULO DA SCARICARE
Per iscriversi al seminario, si prega di scorrere in fondo alla pagina:
scaricare il modulo di iscrizione e inviarlo a info@fondazionelisio.org ;
effettuare il pagamento con carta di credito oppure effettuare un pagamento offline
COLLEGAMENTO ONLINE
Il seminario si terrà in videoconferenza attraverso la piattaforma Zoom. E' necessario un dispositivo con connessione internet. Tutte le informazioni relative al collegamento Zoom saranno inviate via email a seguito dell'iscrizione.
COSTI
€ 50,00 (che comprende i due appuntamenti per un totale di 3 ore)
PAGAMENTO QUOTA RIDOTTA
Per docenti, collaboratori e iscritti al corso biennale in "Sartoria Storica e per la Scena" è prevista la possibilità di partecipare a quota ridotta, secondo le medesime modalità sopradescritte.
Per gli interessati unicamente alla seconda parte della Conferenza sull'abbigliamento maschile.
How to enroll for Conferenza | La moda del Trecento a Siena e in Toscana
There are still places available
1. Send the application form
To pay the fee use the same email address you used to send the form.
Please, check out the participation fee section if you have the right to a discount.