Lampas and Damasks
A selection of Lisio's designs, taken from our historical archive, and woven as "lampas", "damask" or "brocatelle" techniques, available in many metres and different colors.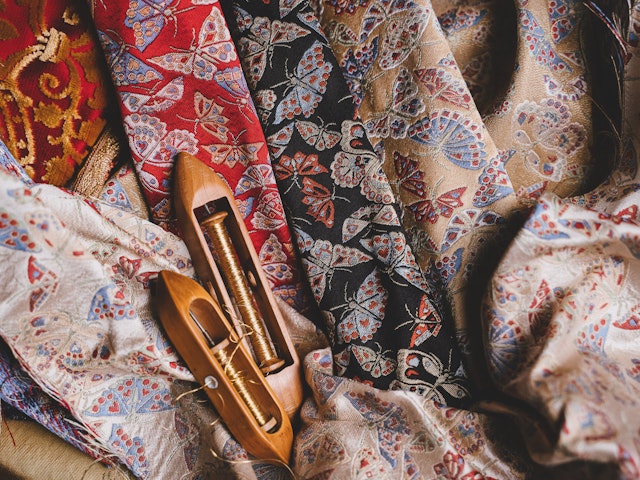 oriental iconography
"Farfalle" Lampas
'Farfalle' is one in a series of fabrics made especially precious by use of extremely fine silk threads and by the sheer richness of the weaves, which in a multitude of colours describe patterns not infrequently illuminated by gold.
Set up on the loom in the second half of the 1920s, these lampases stand out for their small decorative modules, defined with great attention to the smallest details. The motifs are drawn from Oriental iconography; the subjects are geometric, phytomorphic, or zoomorphic – as in the case of these 'butterflies'.
composition 100% silk
cod. FLS02103
colors Ivory / Yellow / Red / Black
gr. 460 mtl
h 140 cm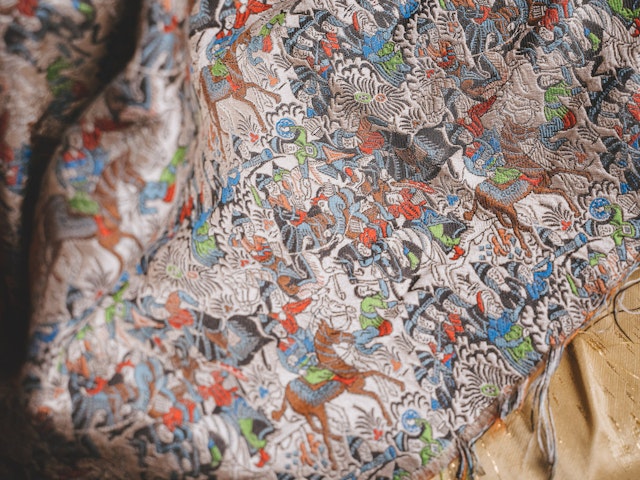 sultan Suleiman conquering Jerusalem
"Guerrieri" Lampas
'Guerrieri' is a lampas set up on the loom in about 1928 as part of a series of fabrics which for about five years augmented the Arte della Seta Lisio collections with various new motifs, all characterized by patterns laid out in an exceptionally accurate manner and in high definition.
Some of the pieces propose figured scenes, as in this case: the subject is a crowded field of battle on which knights and foot soldiers engage in combat. The warriors' dress and headgear are of Oriental inspiration.
composition 100% silk
cod. FLS02104
colors Beige / Multicolor
gr. 520 mtl
h 140 cm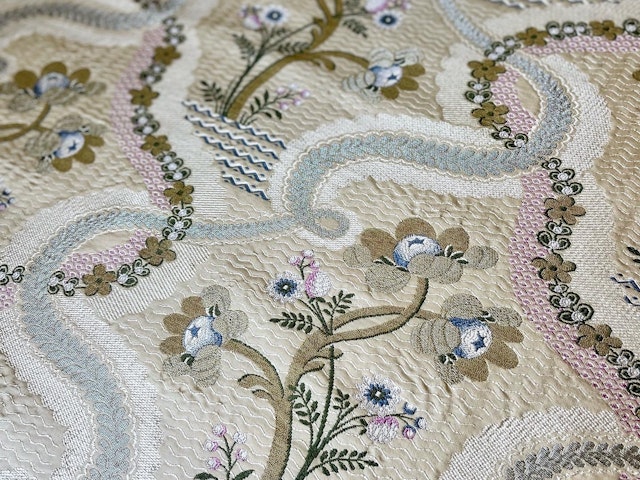 an elegant motif from the mid-18th century
"Duomo" Lampas
The 'Duomo' design presents an elegant motif from the mid-18th century taken from a church parament conserved at the Florence cathedral. Giuseppe Lisio, who set this design up on the loom for the first time in about 1920, possessed such a piece in his collection of ancient exemplars from which he drew many of his designs. As in the original, the fabric is especially rich, due to inclusion of numerous precious threads in gold and silver.
What most immediately strikes the eye is the novel arrangement of the floral motifs in the fields, delineated by strips, and the rich and meticulous workmanship which only increases the value of a refined and already beautiful fabric.
composition 45%silk, 18%cotton, 18%viscon, 6%metals
cod. FLS02106
colors Ivory / Red / Heavenly / Beige
gr. 625 mtl
h 140 cm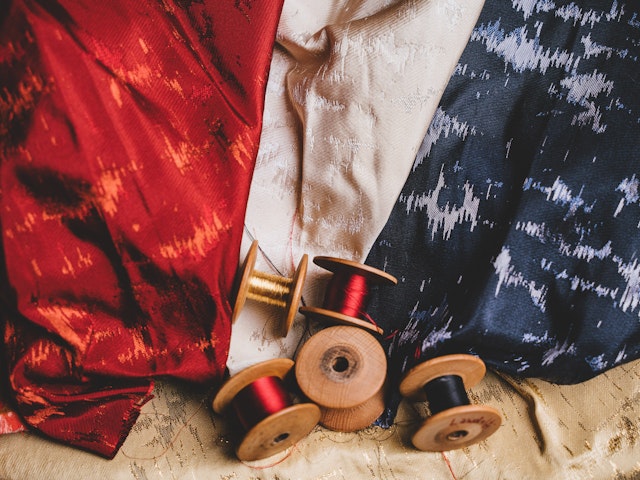 inspiration by Paolo Veronese
"fondo Veronese" Lampas
'Fondo Veronese' was put into production in 1915, together with its coordinate, the 'Veronese' brocade. The inspiration for the fabric was Venice Enthroned Between Justice and Peace by Paolo Veronese, in Venice's Palazzo Ducale.
Due to the absence of gold and silver brocading in the fabric, which leaves the figured ground – with its variegated effects in contrasting colours – fully visible, this lampas was very popular both matched with the more precious brocaded version and as a standalone, above all for furnishings.
composition 100% silk
cod. FLS02105
colors Ivory / Red / Green / Light Blue / Black
gr. 163 mtl
h 140 cm