January 25, 2018
Textile Commodities Course for Brioni Roman Style
A course in textile identification, customised for young employees of Italy's famous men's haute couture fashion house, has recently concluded.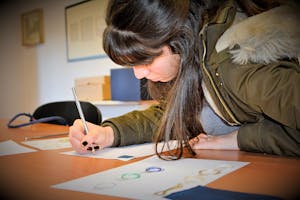 The training course at the Fondazione Lisio
Brioni's employees participated in a customised training course entitled Riconoscimento dei tessuti – merceologia e tecnologia tessile (Fabric Identification – Textile Goods Categories and Technologies) to gain more in-depth knowledge of textile fibres, their physical/chemical properties, their characteristics as they emerge in processing and production of fabrics and, additionally, of the production processes used in today's textile industry.
Teacher Eva Basile recounts this new and exciting experience.
Young and Enthusiastic Brioni Tailors
Interest in the finest and most precious wools, of which the eight young tailors who came to Florence for a short study stay were enthusiastic partisans, created an immediate feeling of closeness, a sense that we all shared a common sensibility.
Ours is an artisan culture centring on silk, the fibre that more than any other harmonises with the extrafine wools. As we went ahead, we and our students discovered, together, just how similar our interests are.
Faille and ottoman, for example, are the fabrics used on the lapels of formal jackets; reps, the fabrics for ties.
Here at the Fondazione, we study these textile types theoretically; they, instead, use them every day.
The students did not know the difference between raw and degummed silk, between organzines and weighted silks . . . just as we, until now, had never turned our attention to super 170 wools and simply took for granted the existence of batavia, a weave we call by the prosaic name of 'saia 2.2' and which, in truth, we use very infrequently.
They – our young tailors – were enthusiastic about it and looked for it in every fabric: in actual fact, without that tiny irregular weave there would be no grisaille, no Prince of Wales, no pied-de-poule . . . and how would we then dress a gentleman?
A pair of sample looms were made available in the classroom: our young tailors took turns weaving plain cloth, twills and batavias: another precious – and hands-on – opportunity to better understand the characteristics of these weaves.
We also discovered how tie fabrics and some fabrics for formal dress incorporate hints of jacquard weaving – the Fondazione's speciality.
We explained damask and brocade, how they differ, and how to tell the difference.
Our students learned these differences by observing and sampling fragments as well as by seeing how, in practice, these fabrics are created on the loom. Observing the machinery and watching weavers at work is always instructive and interesting.
Fondazione Lisio is more than a school.
It is a busy manufactory where artisan techniques live on and find application every day.
The first Brioni boutique opened in 1945 in Rome, in Via Barberini 79. The brand soon became a point of reference for the silver-screen icons of the time and personalities from the worlds of politics and business.

In 1952, Brioni was the first brand in history to stage a men's fashion show. The event, held at the Sala Bianca of Florence's Palazzo Pitti, introduced new silhouettes, bold colours and innovative fabrics to the men's fashion universe.
Known for its bespoke suits, its ready-to-wear sartorial collections and its leather products, over the years Brioni also introduced such innovative concepts as the trunk show and its Prêt Couture - or ready-to-wear haute couture – and has been a fashion touchstone for the worlds of entertainment, government and business.
In 1959, in Penne in Abruzzo, the cradle of the Italian sartorial tradition, Brioni opened its first Brioni Roman Style production plant. The avant-garde factory introduced the concept of Prêt Couture that was to consolidate the brand's international success.
In 1985, the maison opened its Scuola di Alta Sartoria, again in Penne, with the aim of transmitting to younger generations the secrets of Brioni sartorial knowhow.
In 2016, with the opening of the Paris flagship store, Brioni introduced a new store concept developed by David Chipperfield Architects to depict the essence of Rome and the merger of Brioni's roots and its tailoring tradition with the present and the future and to emphasise the brand's distinctive identity.