From May 13, 2024 to May 16, 2024
Fabrics: Basic notions of conservation and restoration
Introduction to textiles conservation and basic notions of restoration.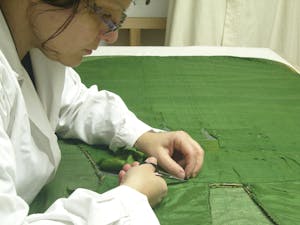 course length: 28 hours | 9 am - 5 pm
total cost: € 750,00 (materials and vat included)
Course provided in italian language only
Introduction to textiles conservation: basic notions concerning cleaning and correct maintenance.
Basic notions of restoration: integrative and conservative.
How to enroll for Fabrics: Basic notions of conservation and restoration
You can book now this course. The course will take place once it has reached the required amount of particpiants. Book now and you will be notified soon!
1. Send the application form
After sending the enrollment form, you can choose to pay the deposit or directly the whole fee, using the same email address.