From September 27, 2018 to September 28, 2018
Gold embroidery: purl thread
A practical first-level course for learning the ancient art of gold embroidery, for creating jewels with needle and thread.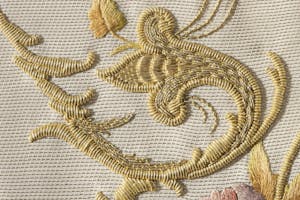 course length: 14 hours | from 9 am to 5 pm
Participants in this course will learn how to lay gold thread on embroidery silk and then secure it in place with a series of couching stitches, following a detailed pattern.
Occasional use of light, thin padding permits obtaining splendid effects of light and shadow to enhance and enrich any project.
Participants will create their own 'samplers' incorporating this technique.
How to enroll for Gold embroidery: purl thread
Applications are closed at the moment for this course.