June 25, 2018
Study Day | Indian Weaving
A study day discovering the textile traditions of Varanasi (Benares) and the Indian draw-loom, progenitor of the punch-card and computer-controlled looms.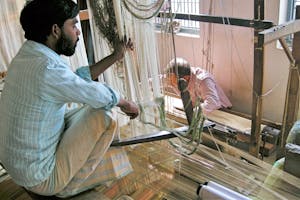 'Jacquard' fabrics without the Jacquard machine
Chair: Eva Basile
The focus on the ancient city of Varanasi on the banks of the Ganges, where the finest silk fabrics are manufactured, coalesced during textile expert Eva Basile's recent trip to India, for the Fondazione Lisio, to visit and study the last surviving workshop where velvet is produced on the draw-loom: an ancient and versatile technology. A study day to learn about Indian textiles, compare than with their European counterparts and understand the evolution that led from the counted-thread techniques to today's most complex digital weaving technologies.
June 25th Monday, 2018
9.30am - 1pm | 2pm - 4.30 pm
at Fondazione Arte della Seta Lisio
via Benedetto Fortini 143, 50125 Firenze


INTENDED FOR
Educators and students of textile history, conservators, scholars, weavers, textile experts, designers and enthusiasts.
DOCUMENT GIVEN AT THE END OF THE WEBINAR
Certificate of attendance
ENROLLMENT FORM
To register please make the payment by credit card using the form below.
Furthermore you can make offline payment
FEE
EARLY REGISTRATION: 52,00 € [by June 10, 2018]
STANDARD: 67,00 €
FRIENDS*: 42,00 €
*Friends: who participated to past courses or Study Days at Fondazione Lisio. Please send certificate of attendance together with the filled registration form.
Registration fees include: welcome, coffee breaks, buffet lunch, all materials and administration costs.
How to enroll for Study Day | Indian Weaving
Subscriptions are momentarily closed.