Weaving of the Cavaniglia 'Inferriata' Damask
A request by the Imago Antiqua cultural association sparked the project aimed at recreating a 15th-century silk fabric: the Cavaniglia-pattern damask, a replica of the damask used for the funeral doublet of Don Diego Cavaniglia, a noble condottiere from the Campania region who met his death in Otranto in 1481. The project targeted the world of 'Living History' and offers support to all historical re-enactors interested in using truly high-profile silk products in their activities.

The manufactory conducts an intensive activity concerned with development of fabrics of high quality from the points of view both of research into yarns, dyestuffs and technical design and of accurate definition of patterns.
Alongside production of hand-woven fabrics on ancient Jacquard looms, begun in 1906 and still flourishing today, other areas of creative production have been developed: the collections of mechanically-loomed fabrics, which began in the post-WWII years with Fidalma Lisio and continued until the 1980s, and setting up on the loom and weaving of projects by our design course students.
In 2016, in tune with the foundation's experience and on request by clients with particular needs in terms of production schedules and costs, we launched new projects that permit us to create unique, high-profile silk fabrics with the support of an external semi-mechanical loom.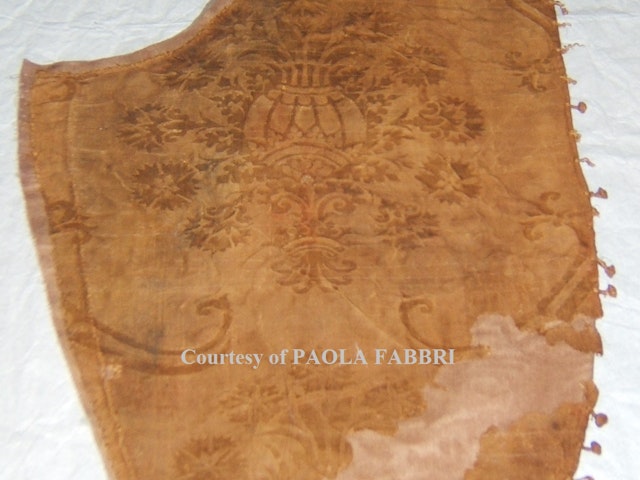 The occasion was the request from the Imago Antiqua cultural association – and on the initiative of re-enactor Renzo Semprini – to weave a damask reproducing the pattern of the damask used to tailor the doublet of Diego Cavaniglia (d. 1481) found in the monastery of San Francesco a Folloni in Montella, in the province of Avellino, in 2003.
The 'find' is typical of the production that characterised the Italian manufactories from the mid-1400s through the end of the century.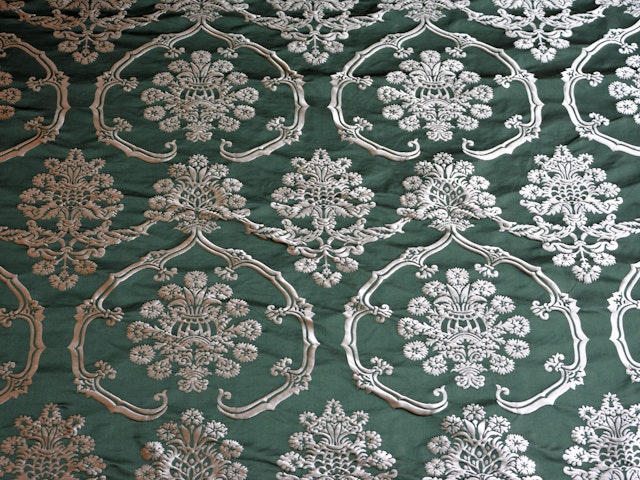 The pattern, the so-called 'inferriata', was created in that era in numerous variants and by such techniques as velvet and damask weaving. Following a preliminary trial in monochrome damask similar to the original, we received the request to produce the fabric in two colours: a green ground and an ivory pattern.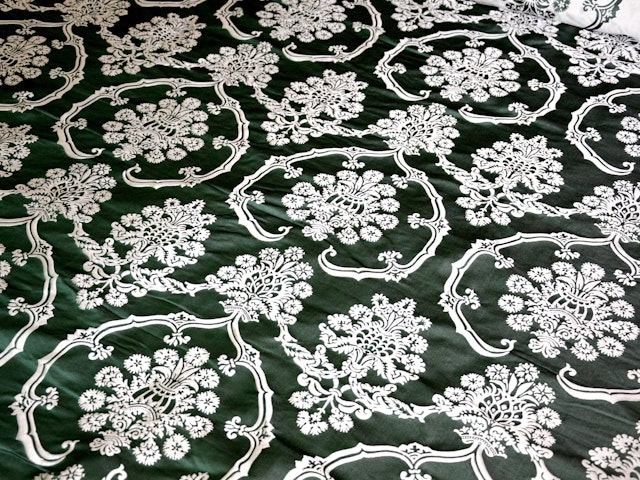 Thirty metres of 100% silk damask were produced in these colours – green ground and ivory pattern – for use by historical re-enactors in various parts of Europe.
The knowledge and knowhow acquired by Fondazione Arte della Seta Lisio over its long history made it possible to resolve the technical and colour-rendering problems in a short mechanical production run, as always guaranteeing the high quality of the finished product. Furthermore, we were able to meet the requirements of those who need to construct clothing that accurately reflects a precise period in history, revisiting the colour combinations with contemporary sensibility.