From July 31, 2021 to June 30, 2023
Historical Tailoring, Costume for the Performing Arts 2021-2023
The two-year course offers complete training, structured in quarters, aimed at acquiring sartorial professionalism for measuring up to and communicating with the various professional figures of the performing arts and live shows.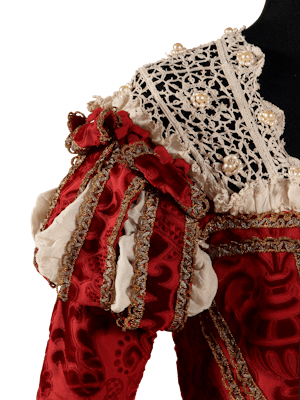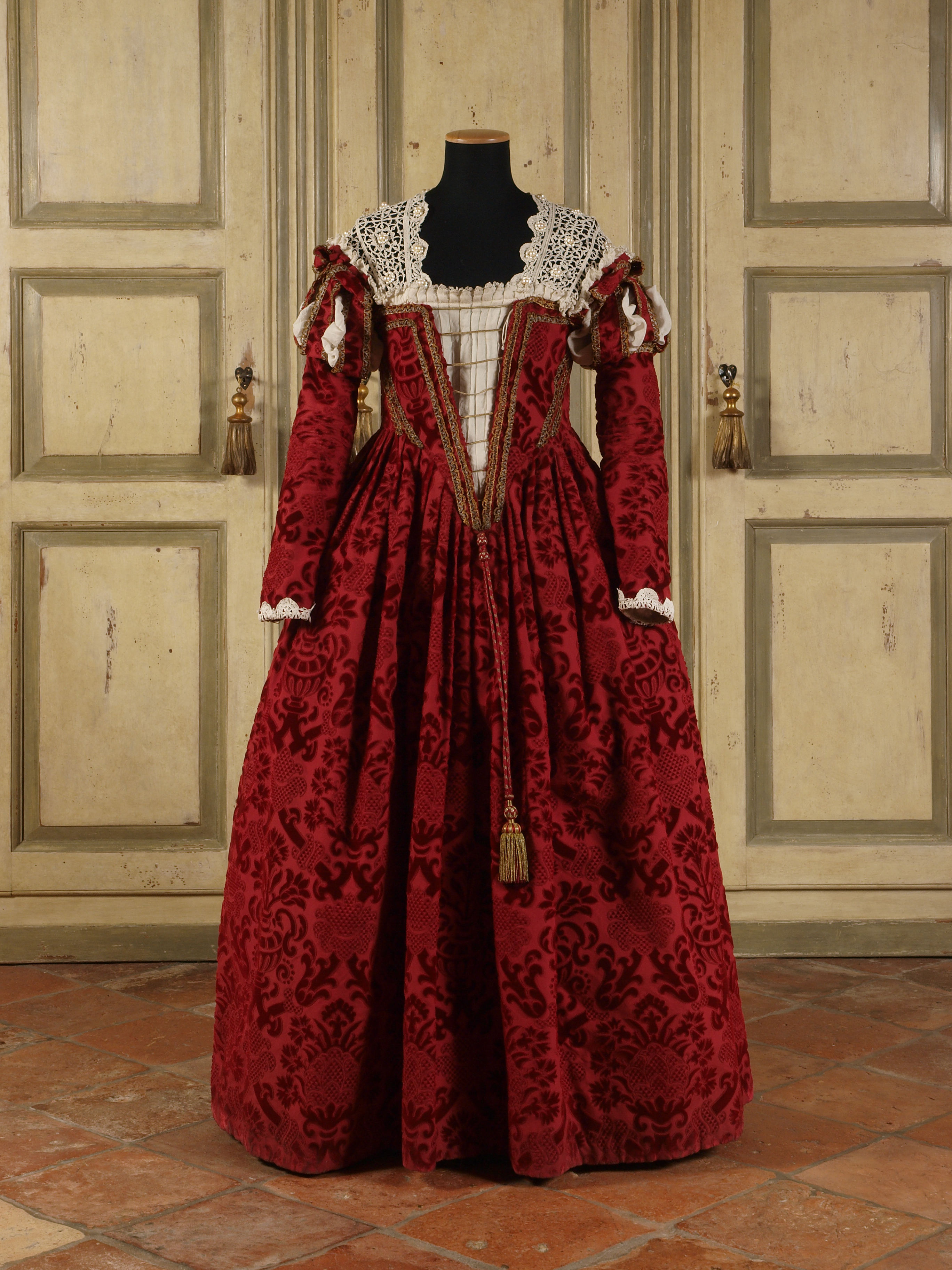 Reconstruction of a Venetian style in vogue in about 1570. Chiselled velvet "Palio 1", in red silk against an ivory background, hand woven by the Fondazione Arte della Seta Lisio, Florence/1991. Private collection.
Duration: two years
Enrolment deadline: 31 July 2021
Start of lessons: September 2021
Course venue: Florence, Italy
Attendance: obligatory. Full-time classes are scheduled three days a week: Mondays, Tuesdays and Wednesdays.
Course language: Italian
Total hours: 1300 hours of which 1,060 hours in the classroom (frontal lessons and workshops) and 240 hours of professionalising activities.
Total costs: € 13.000,00
Training areas: the macro-areas of skill acquisition for the five quarters are:
Tailoring techniques
History of costumes and the stage
History of the performing arts
Digital archives and virtual exhibitions
Restoration and conservation
Self-employment and entrepreneurship
Graphics, digital processing and communication
English for communicating in this sector
Safety at work pursuant to Legislative Decree 81/2008

Case studies and expert reports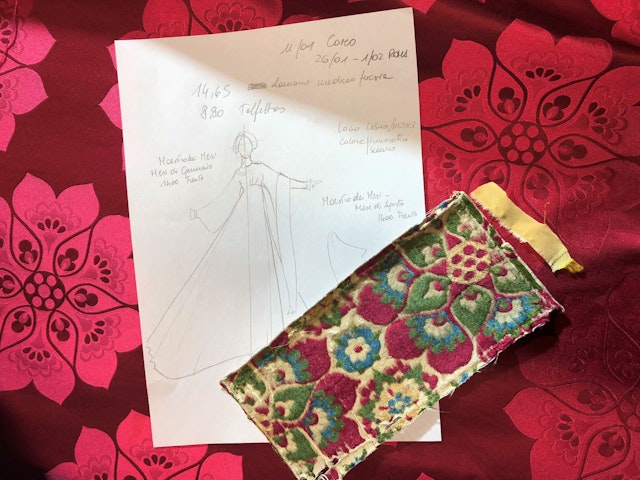 for historical, sartorial and entrepreneurial professionalism
For the academic years 2021-2023, the Fondazione Arte della Seta Lisio of Florence is organising a two-year course on "Historical Tailoring, Costume for the Performing Arts" for training professional figures with specific skills from the design and making of stage clothes - including theatre and historical re-enactments - to philological reconstruction for historical costumes.
The course aims to provide a solid basis on the history of costumes and evolution of historical tailoring and merchandising, including specific tailoring skills for the educational museum sector, from the initial historical costume restoration and conservation skills to the technical skills necessary for cataloguing funds and collections of costumes.
The tailoring workshops are entrusted to five personalities from the tailoring world of the performing arts, including costume designers and costume historians, each of whom will be touching on a specific historical period.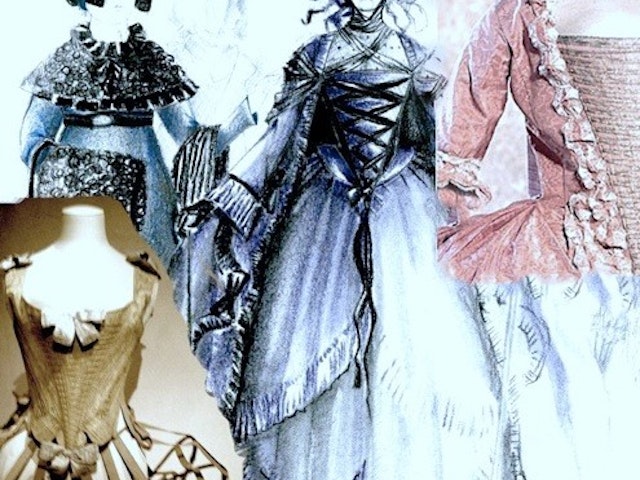 The quarters
Course structure
The course is based on quarterly modules, each for 212 hours during which theoretical, theoretical-practical, and practical workshop lessons will be provided.
The theoretical and theoretical-practical lessons entail a progressive approach to the subjects for organically acquiring knowledge and skills throughout the entire training course. Towards the end of each quarter, practical workshop lessons will lead up to the creation of costumes in line with the historical periods taken into examination.
For each historical period, life-size costumes will be created with a dual perspective: the first includes techniques and procedures faithful to the historical practices of the clothing of each period, the second uses the visual form of the historical period but adapts it to the stylistic and scenic requirements.
The quarters and workshop teachers:
1 st quarter - "Propaedeutic" : "From Antiquity to the 15 th century" workshop module , 60 hours - Susan Marshall ;
2 nd quarter - " Costumes and the scene 1" : " The 16 th and 17 th centuries" workshop module, 60 hours – Luca Costigliolo;
3 rd quarter - " Costumes and the scene 2" : "The 18 th century" workshop module, 60 hours - Anna Maria Heinreich;
4 th quarter - "Accessories" : "The 19 th century" workshop module, 60 hours - Thessy Schoenholzer Nichols;
5 th quarter - "Museums, Teaching Methods and Conservation" : "The 20 th century" workshop module, 60 hours - Isabelle Caillaud.
The following are foreseen in each quarter:
Training days with guest speakers during which the students will be in direct contact with specialists in the various sectors for more in-depth thematic analyses;
Guided tours, to enrich knowledge through comparisons with museums, companies, artisan enterprises.
In the first four quarters there will also be lessons for acquiring English terminology in this sector . Courses on safety at work and entrepreneurship will bring students into direct contact with practical issues of the world of work.
Announcement and application
School regulations and application form
The application form must be downloaded at the bottom of the page in the " application form " section, filled in and submitted by e-mail to didat@fondazionelisio.org , complete with the relevant documentation attached, by 31 July 2021.
The application must be accompanied by the following documents:
Copy of curriculum vitae signed and containing authorisation to process personal data;
Photocopy of identity card (front and back), or other valid identification document;
Scanned copy of receipt of payment of the registration fee, as well as the administrative fee, for a total of € 2,000.00 (two thousand euro/00).
For more detailed information regarding the purposes, training subjects, costs and registration methods write an e-mail to Secretary didat@fondazionelisio.org asking for the "Course Regulations".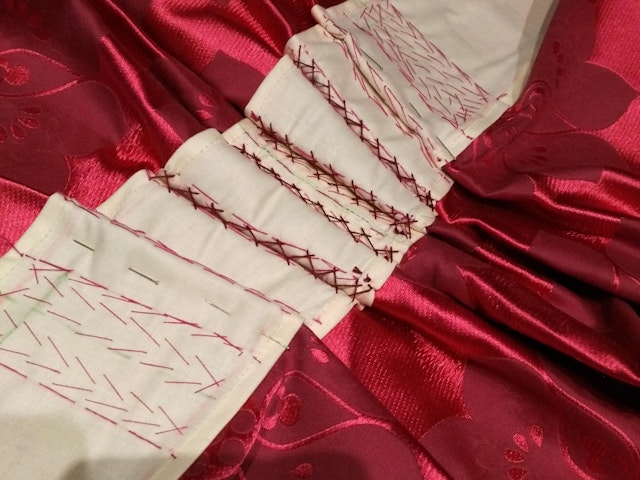 240 hours of paid workshops to create costumes for the performing arts
Professionalising course
A 240-hour professionalising course with non-curricular and therefore, paid workshops is foreseen at the end of the fifth quarter.
During the course the students will be involved in the production of one or more Italian scenic tailoring workshops where they will come into direct contact with the real work of tailoring, actively taking part in the production of costumes.
Collaborations and Projects:
Fondazione Franco Zeffirelli Onlus;
Conservatorio Cherubini di Firenze;
Accademia Carrara di Bergamo
Università Cattolica di Milano;
C

ommissione Permanente dei Costumi del Palio di Legnano;

Associazione Culturale "Il Leoncello – Scuola e gruppo di danza storica" di Legnano (Mi)
Focus&News | "Historical Tailoring, Costume for the Performing Arts" course
Evento online tenutosi Sabato 20 giugno 2020 in diretta streaming per la presentazione delle novità del corso e dei titolari dei cinque laboratori, un momento d'incontro tra esperti del settore, esperienze e idee per il futuro.
How to enroll for Historical Tailoring, Costume for the Performing Arts 2021-2023
Applications are closed at the moment for this course.